– 80% of the UK public think secondary ticketing is a "rip off"
– 67% of those who purchased above-face-value tickets from sellers on sites like Viagogo, StubHub, Get Me In! and Seatwave said they would attend fewer concerts in the future. 60% said they would attend fewer festivals, 58% that they would spend less on food & drink at venues, and 47% that they would spend less on recorded music
– Consumers support the concept of "face value" resale as well as proactive measures to tackle ticket touting online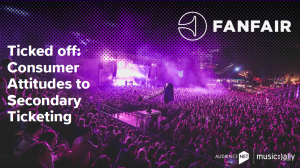 October 30th 2017
A new AudienceNet / Music Ally consumer survey has revealed the depth of public concern with mass scale ticket touting taking place on so-called secondary ticketing platforms such as Viagogo, StubHub, Get Me In! and Seatwave.
Commissioned by FanFair Alliance, with support from UK companies See Tickets, The Ticket Factory and Twickets, the findings show that 80% of the British public consider secondary ticketing to be a "rip off".
Meanwhile, the majority of people who purchase above-face-value tickets on secondary platforms are less likely to spend money on other live events, on at-venue purchases (drink, food, merchandise) and on recorded music.
Other key findings include:
– 52% of respondents said it was difficult to distinguish between authorised primary ticket sellers and unauthorised secondary sites
– 43% of respondents said Google was their first port of call to search for tickets. This is despite previous FanFair research showing that secondary sites systematically pay to top search rankings. Viagogo has drawn particular criticism for advertising itself on Google as an "official site"
– 58% of respondents said they supported the concept of face value resale
– 82% of respondents said that secondary platforms should be more transparent and show more detail about the identity of those re-selling tickets
– The vast majority of respondents support precautionary measures to prevent ticket touting, including the provision of authorised resale services (87%), limiting ticket purchases (80%), and personalised tickets with ID checks (75%)
Download the full report here.
Commenting on the report findings, FanFair Alliance campaign manager Adam Webb said:
"The debate around online ticket touting raises strong passions, so it's important that the wider music business, politicians and regulators can get a sense of what the general public think.  
"The message from this research appears to be pretty clear: UK audiences are fed up. The model of secondary ticketing promoted by Viagogo, StubHub, Get Me In! and Seatwave is causing them very real concern – albeit, they are not against the concept of ticket resale. The majority would like the option to resell a ticket for the price they paid for it, and they're in favour of measures to curb mass-scale online ticket touting. On that front, FanFair urges legislators and regulators to accelerate their endeavours to tackle the most egregious practices of the secondary market.  
"More positively, an increasing number of UK ticket companies are now offering face value resale services, and it's becoming common practice for artists to implement anti-touting strategies. This is hugely encouraging, although there remains a deep-rooted resistance from some parts of the live business that needs to be overcome. For while the status quo might bring short-term gains to certain companies, there is a real danger that their intransigence will cause considerable long-term damage – not only to the live music sector, but across the music business overall." 
Rob Wilmshurst, CEO See Tickets, said:
"Touts aren't just responsible for massively inflating prices, they are also as the research shows chipping away at the public's confidence in the live music industry. Buying a ticket for an act you really want to see should be exciting but touts are turning this into a fraught, overpriced and desperate experience for a lot of people.  We firmly back any action to combat touting and have made our stance on this very clear by offering customers of Seetickets.com the use of an Ethical Resale site where tickets can only be resold at the price customers paid or less with commissions below everyone else's."
Phil Mead, Managing Director, The Ticket Factory, said:
"The faceless secondary market in its current form is harming the UK's creative economy by diverting revenue from the live events industry at large.  The effects of this largely unregulated market are felt across every level of the industry – it's not just affecting artists, agents and promoters but is also increasingly tarnishing the reputation of venues that have to deal with distraught customers who can't gain access to a gig or performance.
"While the fans are the immediate victims, not taking action today will damage the industry irreparably in years to come. By supporting this report, we hope to play a part in the education of consumers and ticket buyers who ultimately have the power to starve the secondary market."
Richard Davies, CEO, Twickets, said:
"We're really happy to support this survey from FanFair. For too long, fans have been faced with a confusing and often deceiving secondary marketplace. We're obviously very aware of the acute need for face value ticket resale and it's great to see extensive research now to back it up. The live music business is an incredibly important part of the music industry as a whole, and a significant revenue generator to our wider economy, and we call upon the Government to protect its future, before it's too late. We hope that this survey is a step towards putting an end to resale for profit."
The research comes on the back of considerable political and regulatory pressure to make ticket resale work better for British audiences.
In April 2017, Government passed new legislation to criminalise the mass online harvesting of tickets by touts, as well as new measures to bolster existing UK consumer law and provide enforcement resources for National Trading Standards.
Amidst two evidence sessions into "ticket abuse", Damian Collins MP, Chair of the Culture, Media & Sport Select Committee, described the UK's secondary ticketing market as a "national scandal". Despite being invited, Viagogo failed to show to the second of these sessions.
A Competition & Markets Authority enforcement investigation into online secondary ticketing, announced in December 2016, remains ongoing.